Bennett on the Commercial List – hot off the press!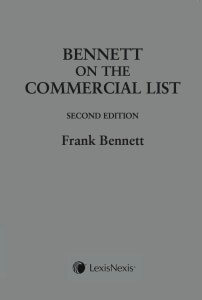 Toronto bankruptcy lawyer Frank Bennett is proud to announce the publication of his latest book, Bennett on the Commercial List, 2nd Edition, published by LexisNexis.
What is the Commercial List? It is a special court of the Superior Court of Ontario that is located in Toronto, Ontario and is comprised of judges who are experts at complex commercial and insolvency litigation. The court deals with cases involving laws such as the Bankruptcy and Insolvency Act, the Companies' Creditors Arrangement Act, the Personal Property Security Act, the Business Corporations Act (Ontario and Canada) and the Winding-Up and Restructuring Act.
Because the Commercial List Court is one of the fastest courts in Canada, lawyers are expected to know its procedures, which are different than other Superior Courts. Bennett on the Commercial List, 2nd Edition navigates lawyers through this different procedure so they can best represent their clients in these complex matters.
Make sure you know the current procedure of the Commercial List, and pick up a copy today.
As advertised in the Ontario Reports.